Over 30 Years Serving People with Developmental Disabilities
News & Events
Upcoming Events
Spectrum for Living's An Evening of Opportunities Gala Dinner Dance & Casino
Spectrum for Living will be hosting a gala on Saturday, May 6, 2017 at the Renaissance Woodbridge Hotel in Iselin, NJ. The theme of the night will be "An Evening of Opportunities", with Senate President of New Jersey Steve Sweeney as our honoree. Mark your calendars!
Time: 7:00 PM to 12:00 AM
Tickets: $275
Please click here to download the 2017 Sponsorship/Ad Journal Form.
Please click here to download the 2017 Gala Reply Card.
All checks made payable to Spectrum for Living.
Mail to: Spectrum for Living
Kim Boyer
210 Rivervale Road
Suite 3
River Vale, NJ 07675
Please RSVP by Friday, April 21
Spectrum for Living 13th Annual Golf Classic
On Monday June 5, 2017, Spectrum for Living will host its 13th Annual Golf Classic at the Haworth Country Club in Haworth, NJ. The event will include lunch, golf, a cocktail reception and raffle prizes. To download the Entry Form, please click
here
.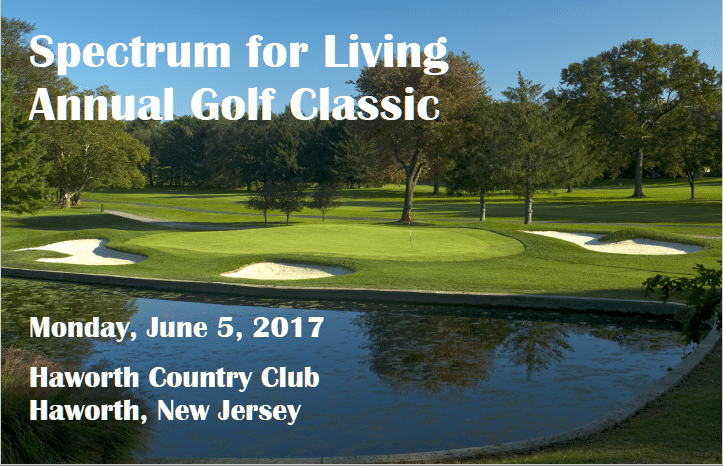 JOB FAIR OPEN HOUSES

The following are the dates for Job Fair Open Houses when Human Resources will be onsite to welcome candidates and conduct interviews.
Hours for all Open Houses are 10 am to 2 pm
4/19 Closter ICF
50 Blanch Ave.
Closter, NJ 07624
4/20 Wall Group Home
1633 18th Ave.
Wall, NJ 07719
4/21 Ringwood ATC
30 Morris Rd.
Ringwood, NJ 07456
4/26 Edison
200 Spectrum Dr.
Edison, NJ 08817
4/27 Closter ICF
50 Blanch Ave.
Closter, NJ 07624
Outside Events
4/20 Passaic County Community College Job Fair
Recent News
Please read below and make calls to your local Senate and Assembly members to support a resolution for a 3% Cost of Living Adjustment (COLA) so desperately needed after nine years of a flat budget despite dramatic increases in everyday cost of goods and services. In addition, flood the Governor's office ...
Read More
Local residents with a little time to share are being sought to participate in Spectrum for Living's "Friendly Visitors" volunteer program at the Ringwood Adult Training Center (ATC) located on Morris Road. In particular, help is needed Monday through Friday from 12:30 to 2:30 p.m. to assist developmentally disabled adults with ...
Read More
Our Partners