Spectrum for Living Service Award Luncheon
Each year, Spectrum for Living honors those employees who have served the organization with decades of service. On January 18th, the Administration and Board gathered to recognize these special people. Their dedication, compassion and hard work are the backbone of Spectrum for Living. Please join us in celebrating all of the honorees. Here are the photos from the Service Award Luncheon (some honorees were not photographed):
10 Years of  Service
Terryann Bredolo, Clive Facey, Milot Ferdilus, Kurt Happel, Mara Harvey, Cheryl Hensle, Margaret Herrera, Audrey Ho-Sang, Volfi Hyra, Damaris Kimeli, Nasheema Leak, Anita Novoa Baggett, Malvin Pujeh, Claudette Reid, Yvette Rivera, Kashauna Seabrooks, Michelle Smith, Shanique Williams Also shown: Michael Nicholson, Chief Financial Officer, Spectrum for Living; and Frank Fiore, Board Trustee.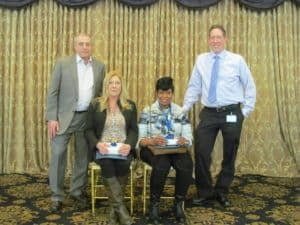 15 Years of Service
Jude Catral, Golda Hennie, Joy Hopwood, Jeanine Isaac, James Njoroge, Linda Reiter, Loretta Rodriguez, Janet Spence, Suzzette Stubbs. Also shown standing, award presenters Frank Fiore, Board Trustee and Tom Donahue, Vice President Long Term Care Services.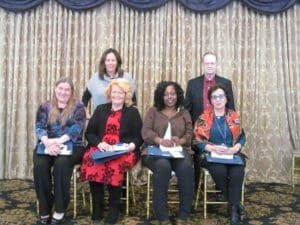 20 Years of Service
Gayle Matthews, Maureen Begley, Demetries Patterson, Ione Laios. Also shown standing Susan Mancuso, Vice President Nursing and Clinical Services and Mike Carpenter, Board Trustee.
25 Years of Service
Yolanda Rozier, Brian Wiener, Laura Mazzella, Lynchfield Jones. Also shown standing Kim Reitmeyer, Vice President of Human Resources and Mike Carpenter, Board Trustee.
30 Years of Service
Martine Adkins (not shown) and Judy Goddard. Also photographed Ann Long, Vice President of Operations, Tom Donahue, Vice President of Long Term Care and Marty Semar, Board Trustee.